YOUR HOME FOR GENUINE SPANISH CLEANING PRODUCTS IN THE UK

3 for £10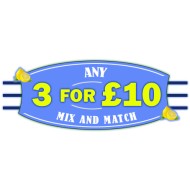 When purchasing your Spanish products, we understand that there is a huge range of Spanish products and sometimes you might want to mix and match. This is what inspired us to launch our 'Build your own bundle' section!
Simply choose from any of the products below and you can mix and match 3 for just £10. Whether you want 3 of the same, or 3 different products you can build your bundle your own way.
Select from a great range of quality Spanish cleaning products below, add to your basket and get 3 for £10 mix and match.
---
Showing 1 to 85 of 85 (1 Pages)