YOUR NUMBER ONE CHOICE FOR SPANISH CLEANING PRODUCTS IN THE UK
48 HOUR DELIVERY (MON - FRI) AS STANDARD FOR ONLY £4.95!
Don Algodon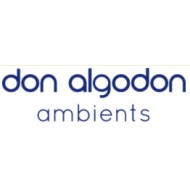 Don Algodon Ambients are a much loved and respected brand in Spain and even around the world. With over 30 years in Spain they have been setting trends as well as shaping lifestyle across that time. They have a wide variety of products and really stand out in perfumery and cosmetics shops across the world with their unique, high quality and reasonably priced products. If you are looking for quality Spanish products then look no further than Don Algodon Spanish products.
Lemon Fresh UK Ltd are proud to be an official stockist in the United Kingdom for Don Algodon products.
---
Showing 1 to 13 of 13 (1 Pages)
NOW ACCEPTING NEW APPLICATIONS FOR TRADE CUSTOMERS. CLICK HERE FOR OUR WHOLESALE DEPARTMENT.