LEMON FRESH UK LTD OFFER A WIDE RANGE OF SPANISH HYGIENE AND SPANISH CLEANING PRODUCTS. 48 HOUR DELIVERY AS STANDARD (MON-FRI)
COVID-19 (CORONAVIRUS) - OUR LATEST STATEMENT: CLICK HERE

Heno de Pravia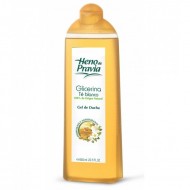 At Lemon Fresh UK we stock a wide range of the popular Heno de Pravia products. Heno de Pravia is a brand in Spain and at Lemon Fresh UK we have worked hard to bring this to the UK. Imported from Spain, Heno de Pravia is now available to buy at Lemon Fresh UK. Shop our Heno de Pravia now.
EXPRESS 48 HOUR DELIVERY (MON-FRI) ONLY £5.75.
ORDER OVER £80 FOR FREE DELIVERY!

---
Showing 1 to 5 of 5 (1 Pages)
ARE YOU A BUSINESS? CLICK HERE FOR OUR WHOLESALE DEPARTMENT.