YOUR HOME FOR GENUINE SPANISH CLEANING PRODUCTS IN THE UK
Romar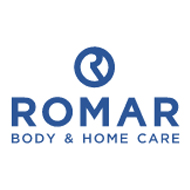 Romar is a Spanish brand known for its quality air fresheners. Not only do Romar manufacture quality air fresheners with classic fragrances, but they also manufacture air fresheners which smell like well-known perfumes too. Romar are known in Spain as a manufacture dedicated to quality and value for money.
EXPRESS 2-3 DAY DELIVERY (MON-FRI) ONLY £5.99.
Orders placed before 11am (Monday - Friday) will be dispatched the same day. If ordering after 11am, the order will be dispatched the next working day.
---
Showing 1 to 16 of 16 (1 Pages)