YOUR NUMBER ONE CHOICE FOR SPANISH CLEANING PRODUCTS IN THE UK
48 HOUR DELIVERY (MON - FRI) AS STANDARD FOR ONLY £4.95!
We would like to wish all of our customers old and new a Happy New Year!
Destello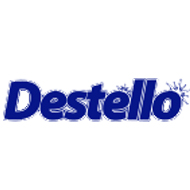 Destello is a Spanish manufacturer of floor cleaners. Destello takes on a different variety of quality fragrances and makes them their own. Whilst keeping in line with a mixture of quality and value, Destello is widely available in Spain and chosen many times across Spanish households for everyday cleaning of floors.
EXPRESS 48 HOUR DELIVERY AS STANDARD (MON-FRI) ONLY £4.95.

---
Showing 1 to 15 of 15 (1 Pages)
NOW ACCEPTING NEW APPLICATIONS FOR TRADE CUSTOMERS. CLICK HERE FOR OUR WHOLESALE DEPARTMENT.