YOUR HOME FOR GENUINE SPANISH CLEANING PRODUCTS IN THE UK
Minky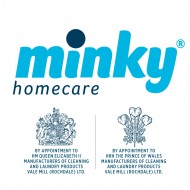 Minky has been established since 1941 and are world leaders in laundry hardware and textile manufacture.
Minky is the UK's number one brand in the laundry market. They are also proud holders of the Royal Warrant, granted as a supplier of premium quality products to the Royal Household, and the Princes Warrant, awarded for product excellence and commitment to the environment.
Minky have a strong brand in the UK and Europe and at Lemon Fresh UK we are proud to partner with them to offer a wide selection of outstanding cleaning accessories.
---
Showing 1 to 3 of 3 (1 Pages)