Asevi Floor Cleaner Concentrated Disinfectant - 1L - Blue Cian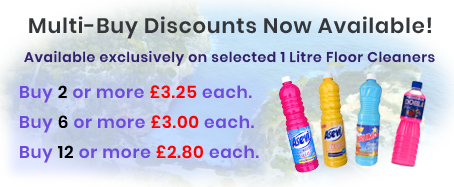 Multi-Buy Discounts Available: Floor Cleaning Multi-buy Discounts
Product Code:

ASEVIDISCIAN1L

Availability:

59
Introducing the brand new Asevi blue (cian) disinfectant. It is the gorgeous Asevi floor cleaner you know and love, but now as a disinfectant which eliminates 99.9% of germs and bacteria. Suitable for use on floors and surfaces, as well as safe to use around pets.

Asevi blue is a concentrated floor cleaner suitable for adding to your mop water. It can be used on all types of flooring and is beautifully fragranced. Because it is concentrated it lasts for longer. This fragrance is really beautiful and will remind you of a beautiful sunny Spanish villa.

ARE YOU A BUSINESS? REGISTER FOR A FREE TRADE ACCOUNT TODAY! CLICK HERE FOR OUR WHOLESALE DEPARTMENT.